Fun in the World of Greyhawk at Canonfire!

Lots of hustle and bustle in the Flanaess of late, so we'll jump right into the latest Greyhawk News you can use:
Charity Events Abound

Jay Scott's 5th Annual Greyhawk Megastream Fundraiser for St. Jude Children's Research Hospital began on Thursday this week:
LordGosumba's 5th Annual charity fundraiser
for St. Jude's Children's Research Hospital

Donations can be made at https://tiltify.com/+greyhawk-community-streamers/5th-annual-greyhawk-megastream-fundraiser-event-legends and see https://www.facebook.com/groups/40230212669/posts/10159706400557670/ for additional details.

In addition, Carlos Lising's caslEntertainment will soon be announcing a new charity adventure module, which will provide donations to the ASPCA.
I've participated in two of Carlos's charity streaming adventures in the past, and fully endorse his giving back to the community. The Tears that Forever Stain supports the Cheetah Conservation Fund, while Lost Dog supports Red Rover. (Both links take you to his adventure books, which support the charities themselves through purchases of the modules).

And last, but not least, GaryCon's charity auction is helmed by the indomitable Jim Kitchen, and Jim is seeking donations for the GaryCon 2023 charity auction:
Please think about donating things for the auction. Gary Con attendees have always been generous beyond measure with their donations and the proceeds from auctioning them has made a difference in lives far beyond Lake Geneva.
The Charity auction at Gary Con is bigger than any single one of us. It's the people who make it happen, who donate and who bid that are the three equal parts of what is one of the best parts of the show.



Jim Kitchen, auctioneering for charity
at GaryCon 2022
This year's auction will support Extra Life and Children's Wisconsin (formerly Milwaukee Children's Hospital), and you can read a summary about the 2022 Charity Auction too.

Rob Kuntz - Two New Releases Celebrate D&D's 50th!
On 1 February 2023, Rob Kuntz announced the publication of two new titles from his Three Line Studios company, as well as a 30 page free fan update newsletter!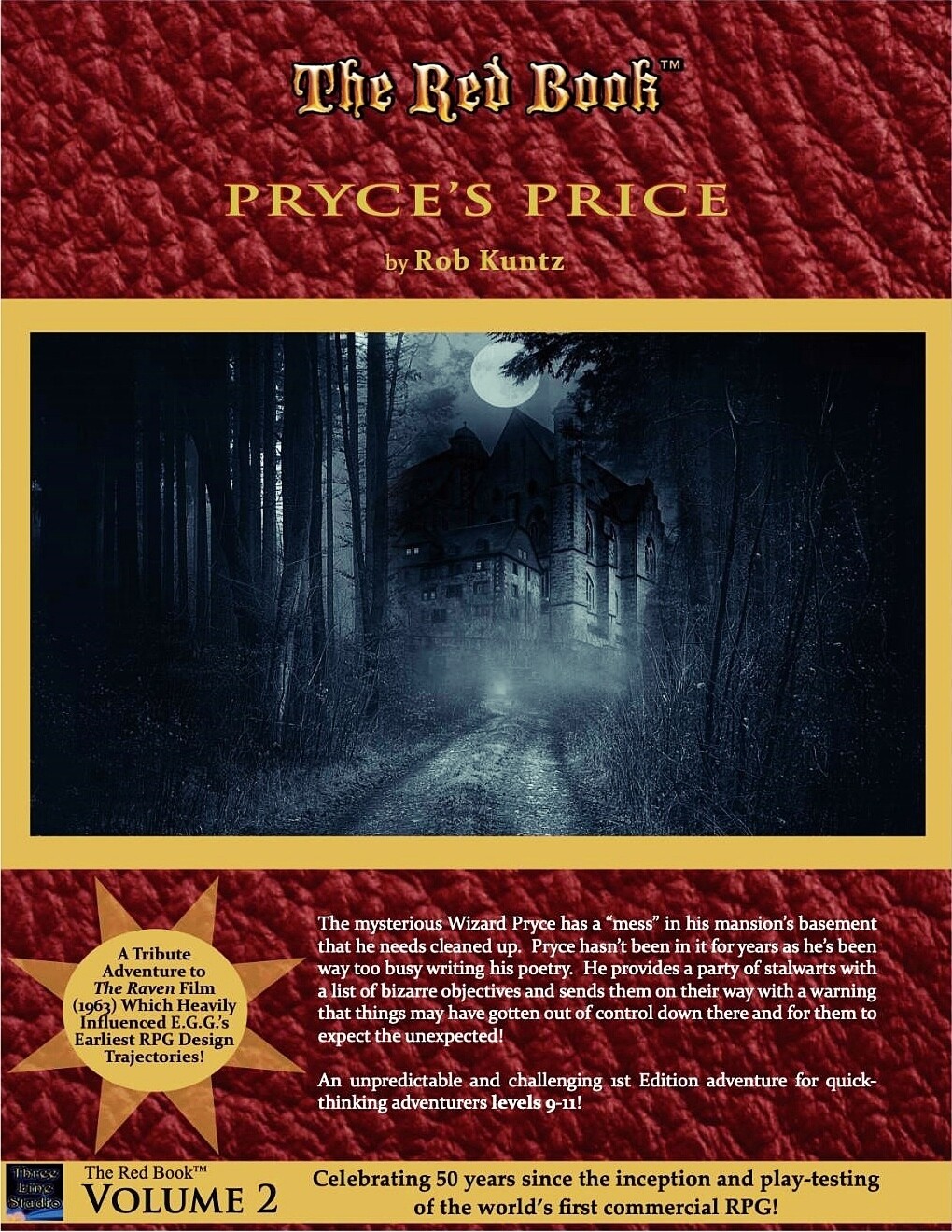 Rob Kuntz's newest adventure,
Pryce's Price

The two new books---one an adventure, the other a collection of magic items and essays---celebrate the 50th anniversary of the creation and playtesting of the game, which began in 1973. (D&D wasn't published until January 1974 or thereabouts).
Notably, both books can be ordered in a bundle at 25% off---quite the bargain!

The three new releases (counting the substantive newsletter) are in addition to Rob's most-recent adventure, Beyond the Living Room, published in 2020 via Paul Stormberg's Legends of Roleplaying imprint, and TLB Games, which published Dave Arenson's True Genius and the El Raja Key Archive (among other titles).

Rob mentions that he will release additional books throughout 2023 to continue his celebration for D&D. You can keep up on additional Three Line Studio releases by signing up for the TLS mailing list: email mailinglist@threelinestudio.com with "Subscribe" in the subject line.

grodog on "L&L" Discussing Greyhawk's Planes

I recently appeared on Lord Gosumba's "Legends & Lore" episode about "Extra-Planar Influences" (in Greyhawk, of course). Jay Scott, Anna Meyer, and Mike Bridges, steered the conversationa and I joined in after a late dinner an hour-in or so.
We had a fun and widely-ranging discussion about the planes in general, planar architecture, planar incursions/invasions, gods and the source for divine powers, among many inter-related topics.

Extra-Planar Influences in Greyhawk,
with Jay, Anna, Mike, and Allan

You can watch the replays on YouTube at https://www.youtube.com/watch?v=A6Z_5c5QDTU or on Twitch at https://www.twitch.tv/videos/1732534574.
GaryCon Events Registration Open!

GaryCon events registration is open this weekend on Saturday, 18 February 2023 for Gold badge holders, and the following weekend on Saturday, 25 February 2023 for Silver badge holders. Additional timeline details for other badge types are at https://tabletop.events/conventions/gary-con-xv.
My two personal events have registrants in them already, but more than half of the seats are still open. Here are the entries if you'd like to register:
On Friday night I'm helping Paul Stormberg by DMing a table of the Legends of Roleplaying tourney, along with Allen Hammack, Steve Winter, Harold Johnson, Victor Raymond, Doug Behringer, and several other volunteer DMs.
If you'd like to register, Legends of Roleplaying Tournament: Ruins of Elder Evil runs on Friday night at 6pm.
Allan.