Black Blade - GaryCon booth review at Black Gate
John O'Neill of Black Gate Magazine visited our Black Blade Publishing booth at GaryCon last month, and rote a very nice piece about the booth and the books at https://www.blackgate.com/2023/03/26/gary-con-report-black-blade-publishing-and-limitless-adventure/.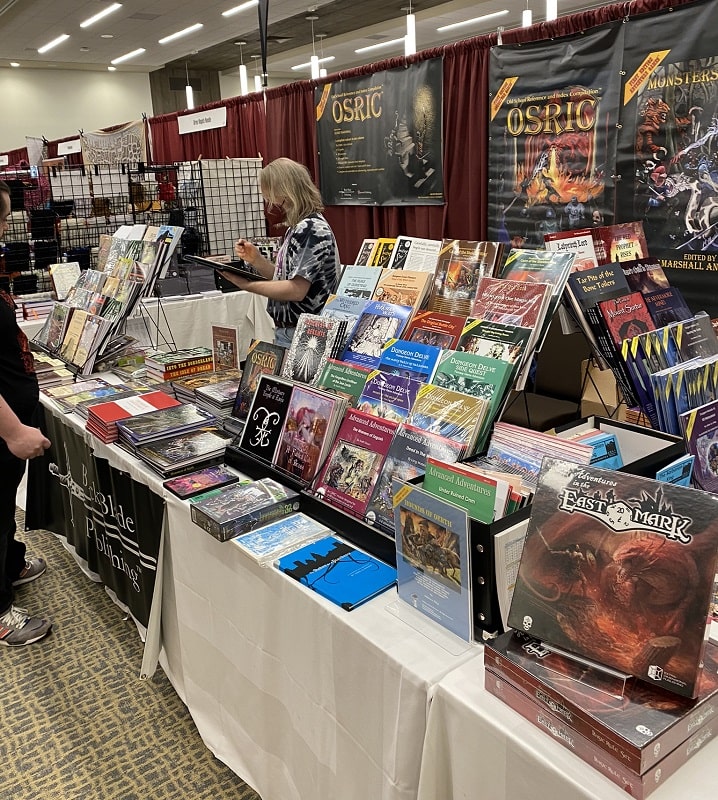 Allan working BBP's GaryCon booth
(photo by John O'Neill)

The article nicely updates John's rediscovery of our booth back at GaryCon X at https://www.blackgate.com/2018/03/13/the-1001-treasures-of-black-blade-publishing-and-goodman-games-gary-con-2018-report-part-ii/.
It's sometimes difficult to appreciate the breadth and depth of excellent content available in the greater old-school, OSR, and Greyhawk gaming communities, and John's article does a great job summarizing the passion that we bring to this hobby.
It's a true pleasure to help introduce gamers to the myriad of wonderful books, adventure modules, fiction, and other fan-created projects at GaryCon and North Texas RPG Con each year.
Tonisborg Review, 2002 Gygax Video, and the Marmoreal Tomb Shambles into Unlife
Two news items via Trent Smith's always-insightful blog, The Mystical Trash Heap:
Trent's excellent review of The Lost Dungeons of Tonisborg, recently reprinted via Kickstarter by the Secrets of Blackmoor documentary team


A recently-rediscovered 2002 interview by Peter Michael Garcia with Gary Gygax at GameFest 2002 (Richmond, VA) at https://vimeo.com/809850827 (23 minutes):
The video was shared on Facebook by Ernie Gygax, and Trent reshared it from there.
Ernie's and Benoist Poire's Marmoreal Tomb Kickstarter also began to ship product in March, after the long-delayed project was rescued through the assistance of Troll Lord Games, who completed production and fulfillment. I wasn't a backer, but the new books do look pretty good, per a picture that Anthony Huso shared recently from his blog:
The Marmoreal Tomb in all of its glory
(photo by Anthony Huso)

What's Up in the Greyhawk Fan Community
The community has been pretty busy of late---creating, announcing, and delivering several new projects!:
Visions of Greyhawk is still accepting volunteers for assistant editorial positions. To volunteer your help in editing or layout and design, or to submit an article or a piece of artwork, emails visionsofgreyhawk@gmail.com.
Since the new zine is positioned as complimentary to the Oerth Journal rather than competitive with the OJ, I remain cautiously optimisti that the community can support multiple zines. We'll see!
And that's all for the month of Planting!

Happy Oerth Day everyone (yet-again blogger ate my content yesterday afternoon, so this being posted a day late and a post short), and see you next time!

Allan.